Skip Navigation
Website Accessibility
Fun Times!
Good Afternoon!
We hope that everyone is having a most wonderful day! The heat and humidity down here in Jamesport Missouri is making it hot this week. We've loved seeing customers come into our nice air conditioned store and browse the many many different fabrics, notions and Amish quilts that we carry even though it's hot out! The week is about up but the weekend is getting closer than ever as well as the "22nd Annual Quilt Auction"! We're just counting down the days till Saturday, October 10, 2020 to see all of the amazing and beautiful quilts that will be displayed at the auction! We would be absolutely happy to see everyone that week and talk and catch up and see what's going on with you all!
Sooo...here's a little bit of what's been going on here for the last month or so...

About a month or so ago we got a computer for our quilting machine and that has made quilting sooo much easier (all of you that have computerized quilting machines, we completely understand why you got them!). Not too long after that we got in over 5,000 new yards of fabric that are absolutely stunning and a must see! The first week that we received all that fabric we worked tirelessly to get them all logged in to our system and put them out on the shelves for the "May Days Festival" in Jamesport that took place on June 19th-20th. Luckily, with the help of all our team members, we got it all in on time!
The "May Days Festival" was an absolute blast that weekend! There were people every where enjoying all the vendors and having fun hanging out with friends and family (We even went out and got some delicious kettle corn popcorn!). We had soooo many people come in and chat with us and see all the new fabric that we had just got in. We had a blast that weekend!
A few days after the festival we got in a new line of Northcott fabric called "Crackle". We got the whole line of it in and a few bolts of wide backing while we were at it. So far everyone has loved that line of fabric. We had a lady come in and brought a very cool dragon panel quilt that she had just got finished. She was very nice and let me take a couple pictures of them so I could show it off!!! While she was there, she wanted to get some backing material for some other dragon panel quilts that she was making. So we showed her the red Crackle wide backing fabric that we just got in and she absolutely loved it and got some to finish her quilts!
---
Below are pictures of some of her finished quilts!
(They're not the best pictures but... :)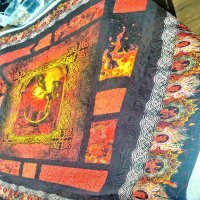 ---
Here is some of the colors of the Crackle fabric line


L
ink to all Crackle Fabric:
---
The "2020 HWY 36 Quilt Trail" is still on going and we have had many people stop by to see us. For those of you that don't know what the Quilt trail is... It's a fun road trip to go around to multiple (14) fabric and quilt shops that are set up off of Missouri HWY 36. It started on April 1st and is running till October 1st, 2020. You get a passport from a participating shop and you then go around to all of them and collect stamps/signatures and quilt blocks for that year. After you collect all the stamps/signatures and quilt blocks, you mail your completed passport to the address provided on it and a picture of the completed quilt top and the first 250 participants to complete the passports and mail them in get a limited edition 6th year charm! After that you are entered into a drawing. The GRAND prize is a $25 from each participating business on the quilt trail!!! The second prize is a big Fat Quarter Basket! Any shop can receive a completed quilt top to be photographed and can also collect a completed passport if the customer would want them to... Now you know what the Quilt Trail is! It is so much fun and we love to see everyone and talk with them to see where they have been and the other adventures that they have had fun on!
Not too long ago we got two very glorious panel in. Their names are "Glorious and Free" and "Live Free". They are both very patriotic panels that look absolutely stunning! During that same week we had fun messing with our new-ish computerized quilting machine and figuring out how it works exactly (We are feeling like pros now :). We've been busy happily making beautiful quilts for one of our local inns called "Jamesport Inn". We only charge a 1.5 cents a square inch!
---
On the Left is "Glorious & Free" and on the right is "Live Free"
Link to these patriotic panels:
---
---
With the whole Covid-19 going on, we've been ordering black fabric whenever we can get it! What about Chief fabric you ask? Let's just say that's definetly something we won't be getting in anytime soon sadly. We've done pretty good with keeping up with the demand on white/black 1/4" elastic and nose bridges. We have over a thousand yards of it at least luckily so don't be afraid to come to us thinking we might be out :)
Some other things that have happened this summer? Well, we joined "Quilting Hub", we're running a HUUUUGGGGEEE sale right now, and we're exited for the quilt Auction that has now been planned!

So, let's start with what you're most exited about, the HUUUUGGGGEEE sale!!! We are running a HUUUUGGGGEEE summer sale! 20% off EVERYTHING!!! You can use the code online or come in store and we'll apply it to your order when you go to check out! Use the code SUMMER2020 to redeem online! Sale ends on August 1st! Hurry now and great deals now! There is one thing though, the sale excludes quilts and all items already on discount. But HEY!!! 20% is 20%, am I right!?!
Now, the topic that you are actually excited about...The Quilt Auction!!!!!!!!! We've got word (confirmation) that the 22nd Annual Quilt Auction is going to be held on Saturday, October 10, 2020!!! I know I've already ripped the stitch on this at the start of this letter but it's super exciting and we can't wait for it!!!
---
Here's the flier for the auction!!!

(Hope you don't mind the extra color we added to it) :)

---
Well, that about sums all that up! We'd like to start sending out more newsletters like this one! So let us know if you liked it and would like us to start doing it more (one a week or so?) If you have any tips or even anything that you would like us to put in them (Got a fancy quilt that you just finished and would like to show off? Just send us a picture of it and lets us know what state and city you live in and we'll give you a personal shout out!). Our facebook is "Shearwood Crossing" and our gmail is us.shearwood@gmail.com


We hope that everyone is sewing on and having the stitch of a time!


Warm (or cool) Hugs- The Shearwood Team